with Coriander Chilli and Yoghurt Dip
Homemade chips are luxurious and delicious. Oven baked pita chips are substantial enough for chunky dips and are a great addition to Tapas, bar snacks, sharing plates or just as a nibble with drinks. Kids also love them and they are a great way of using surplus bread as they will keep in an airtight container for several days.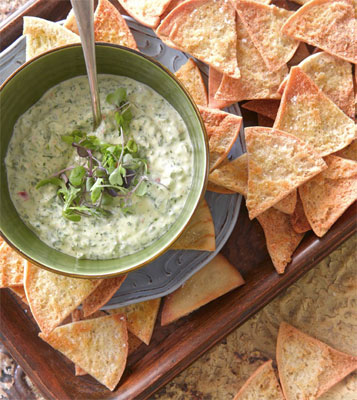 Pita Chips
A pack of Giannis Pita breads or Giannis Garlic Pita breads
a couple of cloves garlic crushed (optional)
¼ cup oil
Sea salt for sprinkling
Preheat the oven to 190°.
If using plain pita bread instead of Garlic pita, mix the crushed garlic into the oil. If using Garlic pita there is no need to do this as Gianni's garlic pita are deliciously infused with the flavour of garlic already.
Slice the pita breads in half and brush both sides lightly with olive oil, sprinkle with sea salt and then stack the oiled and salted pita bread circles. Slice the stack into wedges.
Spread the wedges in a single layer on a baking sheet and bake in the pre heated oven for 10 – 15 minutes until light golden and crisp. Watch the chips closely as some will cook more quickly than others due to variations in the thickness of the bread.
Cool and store in an airtight container.
Coriander Chilli And Yoghurt Dip
1 small bunch of coriander
2-3 spring onions (white part only)
½ red chilli (seeds removed if you don't want it hot)
2 cloves garlic crushed
2 tbsp mayonnaise (use lite mayo if you prefer)
3-4 tbsp natural yoghurt
juice of ½ a lemon
a pinch of salt
Combine all the ingredients except yoghurt in a blender or processer and pulse until finely chopped, then mix in yoghurt to taste.
Serve chilled with Giannis pita chips.