with Giannis pizza base
This popular flavour combination is quick to assemble and tastes as good as it looks.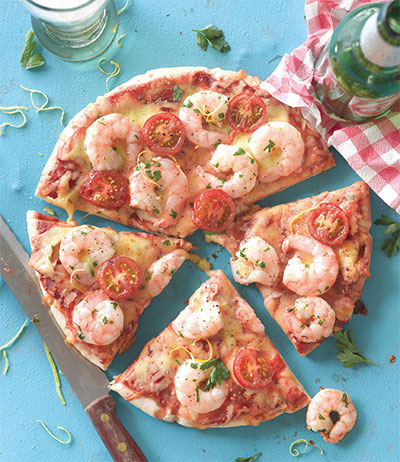 Giannis family pizza bases
1/3 cup passata – cooked sieved tomato
Large pinch dried oregano
2-3 tbsp ready-made barbeque sauce
350 – 400 g large fresh or defrosted prawns, cleaned of all shell, tail, veins etc
3 fat cloves garlic crushed
Juice of ½ a lemon
1 tbsp chopped parsley
1 tbsp olive oil
a pinch of dried chilli flakes
½ cup halved cherry tomatoes or sliced regular tomatoes
¾ cup mozzarella cheese sliced or grated
Makes one-two depending on size
Pre heat the oven to 190°
Place the prepared prawns in a non reactive bowl with the oil, lemon juice, garlic, chilli flakes and parsley. Mix well and set aside to marinate for 10 minutes.
Place a Giannis pizza base onto a pizza stone or pizza tray.
Mix the barbecue sauce into the passata and spread the sauce over the Pizza base then scatter on the dried oregano distributing it evenly over the base. Add the mozzarella and scatter on the prawns, then add the tomatoes and a grind of black pepper.
Bake in the preheated oven for 8-10 minutes until golden and prawns are pink.
Cooks tip: If using frozen prawns, ensure they are well defrosted and pat dry with kitchen towel before marinating so they don't make the pizza soggy.