with roasted pumpkin, chickpea and sundried tomato salad
This salad is colourful and filling, piles perfectly onto warmed Souvlaki or Pita bread. It is a good vegetarian meal but is also delicious served with cold meat, an excellent accompaniment for lamb, game or cold roast beef.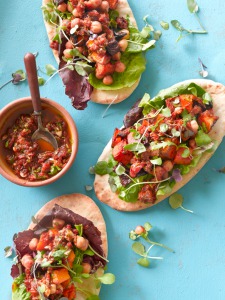 Salad
½ a small pumpkin cut in 5 cm cubes
1 beetroot peeled and cut in cubes
1 tbsp olive oil
1 cup chick peas
mixed salad or baby spinach leaves
Dressing
⅓ cup sun dried tomatoes
3 cloves garlic crushed
¼ cup red wine vinegar
½ cup olive oil
1 tbsp pomegranate molasses
1 tsp sugar
salt and pepper
several handfuls fresh coriander
6 small sized Giannis Souvlaki / Kebab bread or Pita bread
Serves Six
Pre heat the oven to 230°.
Place the diced pumpkin and beetroot into a roasting pan and drizzle with the oil then toss to coat the vegetables – use a splash more oil if needed. Place the pan into the oven and roast the vegetables for approx 25 -35 minutes or until tender, turning once or twice during the cooking.
While the vegetables are roasting prepare the dressing. In a blender or food processer combine the oil, vinegar, garlic, pomegranate molasses, sugar, salt and pepper, sun dried tomatoes and coriander and pulse together.
When the vegetables are cooked place in a bowl with the chickpeas and pour on the dressing, toss together and set aside.
To assemble: Warm or toast the bread then place onto plates or serving platters, add a base of salad leaves then spoon on the dressed salad.