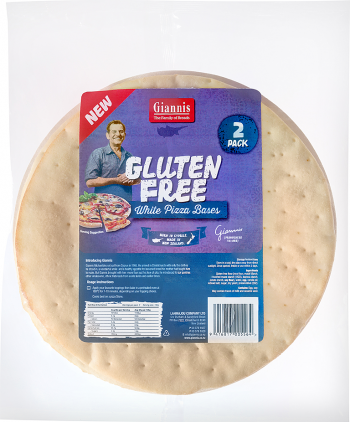 Gluten Free Pizza Bases
Following on from the success of our Gluten Free Pita, we have now created for you a Gluten Free Pizza Base!
These Pizza Bases have the same delicious taste as our Gluten Free Pita Bread with a great texture. We hope you enjoy it as much as we do!
INGREDIENTS:  Gluten free flour (rice flour, maize starch, modified maize starch (1422), tapioca starch, potato starch, soy flour), water, egg, canola oil, iodised salt, sugar, dry yeast, preservative (202).
NUTRITIONAL INFO: Serving/pack: 2 Serving size: 160g
| | Per Serving | Per 100g |
| --- | --- | --- |
| Energy | 1910kJ | 1190kJ |
| Protein | 5.1g | 3.2g |
| Fat – Total | 5.2g | 3.2g |
|      -Saturated | 0.5g | 0.3g |
| Carbohydrate | 95.7g | 59.8g |
|      -Sugars | 2.3g | 1.4g |
| Gluten | Nil detected | Nil detected |
| Sodium | 784mg | 490mg |